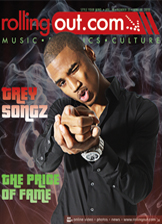 It's 4 p.m. on an unseasonably warm spring day in New York City, and Trey Songz is getting antsy. After a round of morning interviews, an afternoon devoted to a fashion photo shoot for rolling out, and an impending evening filled with even more work, the Virginia-born singer appears ready to break from the madness and catch a breather.
"Things are moving very fast," he confesses. "I'm playing a different show every day. Photo shoots...interviews. It's never really been slow for me since I got in [the industry], but now it's at an elevated level. I'm more in demand … less of my time is my own."
As the words left his mouth, his eyes were drawn to the sunlight pouring in through the windows of our SoHo photo studio. At that very moment, you almost got the feeling that if he could momentarily press pause on his career, just to go outside and enjoy the beautiful day — he would. But that won't happen, and the barely audible sigh that follows confirms as much. There's still so much work to be done, and he knows it.
Continue reading the full interview at RollingOut.com!