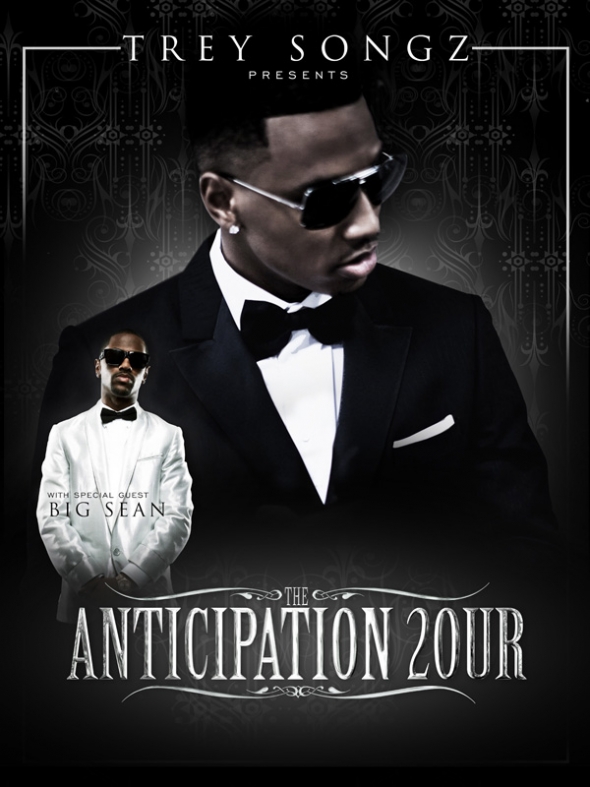 We're giving away a pair of tickets to Trey's 'Anticipation 2our' with special guest Big Sean for the dates listed below! We want you to show us how hard you go for Trey - follow the instructions below to be entered to win! We'll be selecting one winner for each 'Anticipation 2our' date listed. Good luck!
How to Enter:
1. Download the images of Trey and Big Sean HERE
2. Create your own tour flyer, featuring the city of the show you want to attend
3. Create a video of yourself promoting the tour with your tour flyer*
4. Post your videos on your social properties (youtube, FB, twitter) and submit via email to anticipation2ourcontests@gmail.com - please include the city of the show you would like to attend in the subject line
*Videos may NOT contain, feature or otherwise include: people other than yourself; illegal activity (including, without limit, vandalization); or show postings on identifiable buildings.
Official Rules and Submission Agreement. Transportation and lodging is not provided.
An example of how to promote your flyers:
Tour City and Venue - Contest and Submission End Date (NOT THE SHOW DATE)
Cleveland, OH – The State Theatre - February 7, 2012
Louisville, KY – The Palace Theatre - February 7, 2012
Chicago, IL – Auditorium Theatre - February 7, 2012
St. Louis, MO – The Fox Theatre - February 8, 2012
Grand Prarie, TX – Verizon Theater - February 10, 2012
Los Angeles CA – Nokia Theatre - February 10, 2012
Las Vegas, NV – Pearl Concert Theatre at Palms Casino - February 11, 2012
Oakland, CA – Paramount Theatre - February 12, 2012
Cincinnati, OH – Aranoff P&G - February 16, 2012
Detroit, MI – Fox Theatre - February 17, 2012
Milwaukee, WI –Milwaukee Theatre - February 18, 2012
New York, NY – Theatre at MSG - February 23, 2012
Atlantic City, NJ – Mark G. Estess Arena - February 24, 2012
Washington, DC – Constitution Hall - February 25, 2012
Greensboro, NC – Greensboro Coliseum Complex - February 26, 2012
Tampa, FL – Straz Center for the Performing Arts - February 28, 2012
Atlanta, GA – Fox Theatre - March 1, 2012
New Orleans, LA – UNO Lakefront Arena - March 2, 2012
Southaven, MS – De Soto Civic Center - March 3, 2012
Nashville, TN – Municipal Auditorium - March 4, 2012